Wednesday, November 30, 2011
HCwDB of the Month: The Garglebag and Nadia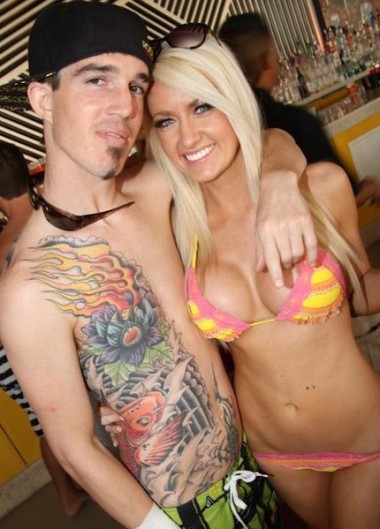 Our last and final entrant in the 2011 campaign for HCwDB is… The Garglebag and Nadia.
With a two-pic run of douchebaggery, including Garglebag and Nadia Smell Like Rhesus Ass, this was a barely winning coupling, just out-siliconing Frego the Herplicker and Irene the Tongue. The voters speak:
DoucheyWallnuts: The Garglebag and Nadia FTW. Garglebag has combined douchey-ness and pussy-ness to a new height and therefore must be a winner (loser). Nadia is ying to Gargle's yang.
tall guy: Garglebag & Nadia for they alone both capture and renew the zeal of all those other anonymous but essential understudies whose duty it is to pose, gesture and generally drink from the cup of life, which is, of course, red.
SonnyChibaChoad: The Garglebag and Nadia FTW..the combo of tropical chest scribbles (flaming flower aromas??) and hideous bolt-ons from the Plasti-Clinic of Novosibirsk on Nadia combine for the strongest quadratidouchadoxical equation this month…
Mr. Scrotato Head: Garglebag and Nadia because nipple as tattoo'd flower center needs to be uprooted with a pickaxe and Nadia's female groin shave reveal is 2011's Birth of Venus. At the very least its one sweet glitter spurting clam shell.

Magnum Douche P.I: Gotta go with the Garglebag and Nadia. He just appears to put so much effort into being a douche. Nadia's bikini bottom could double as a band-aid. And for that I give thanks and a vote.
Capt. James T. Douche: Garglebag and Nadia when looking at them its pretty much knee jerk reflex to almost anyone viewing to say "why is she with him?" Plus a tat that has the nipple incorporated into it = major autodouche. His skin should be removed, carefully preserved and taxidermied and used as a tapestry at the local #1 Chinese buffet. She gets major Bleeth points just for being around this ink stain.
Troy Tempest: I'm going with Nadia and Garglebag, because they are both prime examples as to why the human race deserves extinction.

The Dude: Her smile says "don't feel guilty that your attraction to me and my balloons violates your well-considered standards of hottness."
Her groin area says "come right in!"
Hurl Scheibe: I'm going for Garglebag and Nadie. Epic Female GSR is always vote worthy.
Female GSR does seem to trump all. But Frego and Irene were just one tongue lick behind:
Charles Douchewin: To be sure, all candidates are worthy, but one of these things is not like the others. The others are just standing side by side in typical, relatively harmless, picture pose. But with Frego and Irene, not even the purple glow softens the visceral blow from this image.
Dr. Bunsen Honeydouche: I know it was you, Frego. You broke my heart. You broke my heart! Frego, you're nothing to me now. You're not a brother, you're not a friend. I don't want to know you or what you do. I don't want to see you at the hotels, I don't want you near my house. When you see our mother, I want to know a day in advance, so I won't be there. You understand?
Douche Springsteen: I cast my vote for Frego since he looks like a douchey Will Oldham (perhaps one of the least non-douchey recording artists I've ever had the pleasure of conversing with) and Irene the Tongue, with her eyes closed and tongue extended, appears ready to pleasure with the French arts.
Mmmm… French arts. Herman Herpster and Taut Miranda were third (but could've easily won), andBand Promoter Petey and Barely Legal Bonnie came in a solid fourth, as this was basically a toss-up month.
Dude McCrudeshoes: Herman is the first MacCocclov in 200 years who is legally able to go within 200 yards of a school, and therefore there were high hopes of an associates degree or at least some Las Vegas Community College t-shirts. But Herman has gone very far astray, and the MacCocclov Clan will have to wait another generation for redemption.
SomeGuy: To borrow a turn of phrase from Roseanne Barr, his head looks like her crotch turned upside down. And that prominently displayed left nipple is so…distracting, yet disturbing… And the Terminator shades make me sure that, clad in nothing more than said kilt, Herman spends hours doing his Ahnult impressions in front of the mirror, which probably impresses the hell out of Miranda.
Et Tu Douche?: I'm going with Herman Herpster and Taut Miranda FTW, cause it really is the second picture that puts him over the top and by over the top I mean he's an ass-clown.
Medusa Oblongata: Band promoter Petey. When I look at the picture, I catch a whiff of that water they use to boil hot dogs in. I believe the Bruce Springsteen tattoo on his arm there agrees with me. And I would Bonnie her Brigadoons all day.
Ferris: I bet Petey calls people "G money" a lot and I f#cking hate that. Petey and Bonnie ftw.

skrag2112: Frego and Irene. Just because shes licking him. He must taste like the underside of a sofa cushion in a frathouse.

DarkSock: Frego The Herplicker needs his dick slow-twisted off by a curious baboon plied with Ambien and ether, and then made to watch time-lapse footage of fire ants consuming his anguished spiraled junk on an endless repeat loop. Then someone needs to shoot his eye out, kid. Irene needs her tongue scraped clean with my yogurt-loaded ham squeegee.
Well said all in our last voting of 2011 before the big one gets here. And by big one, I mean epic colonic gas from an In-n-Out double double. Lets lets Nostradouchus take us home:
Garglebag FTW because he wears his shades on the side of neck like a retard.
I'm surprised more haven't noticed the sideways neck glasses. Total douche. And Nadia is hott, even as age creeps up like a stalking ferret. Chalk 'em for the Yearly. And your scruffy narrator gets Pops.