Monday, November 7, 2011
HCwDB of the Week: The Garglebag and Nadia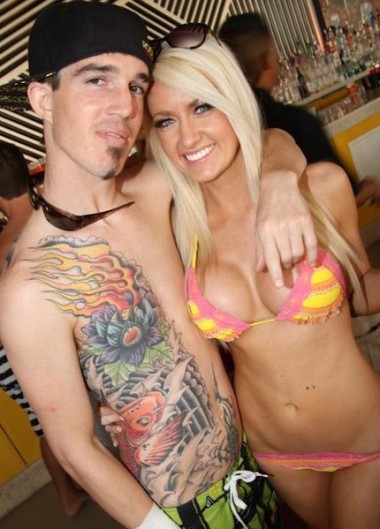 I originally used this pic only as the link-reveal for the truth of Garglebag's douchey wretchitude, and Nadia's enhanced gnaw cleavite. but we'll mark it the winning (losing) pic.
Since it makes hamsters molt and vomit.
Nadia may not be A-level facial hott, but for offering epic G.S.R. (Groin Shave Reveal), and the softest of pooch bellies, she's all good.
Also, Garglebag and Nadia appear to be a real couple, and therefore this hottie/douchey violation trumped some pretty rank douchitude, including Creepy Granpa Jaundy and Sweet Patricia, Twelve Pound Watch Pud, and Superherpster.
Last week also offered A-level kettle corn superhotts like Suckle Tatt-Free Sharona, Bright Eyes Bonnie and Giggling Lana.
But festering choad and/or suckle hott not in harmonic balance is not enough to win. Garglebag and Nadia bring stupid head, chin fung and tasty Aryan hottness in combo.
And so they earn slot #2 in our last HCwDB of the Month before the 2011 Douchies.
And so your humble narrator makes some instant oatmeal. To get all healthy up in this shizz.