Monday, December 12, 2011
Douchiest 'Bag Who May Be a Lesbian in Drag: Troll Dog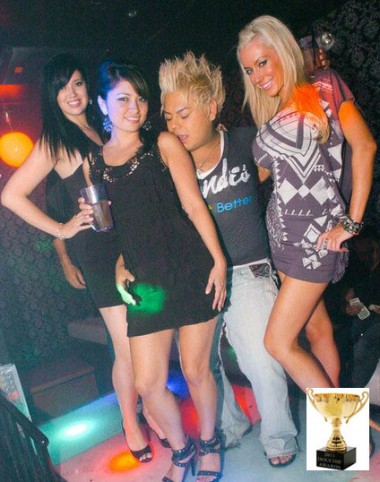 Wedgie hands out the 2011 Douchie Award:
——
Fellow Baghunters, this year's category of Douchiest Bag Who May Be A Lesbian In Drag was chosen by me because I thought this would be a no-brainer. It was going to be 4-Prong, and then everybody else a distant second.
Then, I remembered that Mr. Reeve gave the 2010 Douchie to this marvel of evolution, thus eliminating him/her from my consideration.
Not that there's any rule on it that I know of, but to avoid the mocking of my peers, who would have (correctly) pointed out my abject slovenliness. And while sloth is my favorite deadly sin, I don't want to be guilty of it in this case.
That said, here's your contenters, in no particular order:
From September, Wiggas & The Pear. Nothing like twin dykes to get your motor running.
From August, The Time Traveling Blintzes (Left Blintz Only). Wasn't this guy once married to Sylvester Stallone?
From May, Between A Schmuck & A Soft Place. If that thing on the left isn't a former East German Pole Vaulter, I don't know what is.
From April, Dieter. And Dieter's Lips.
Also From April, Poindouchester. Whiskey. Tango. Foxtrot.
Valid entries, every one. With honorable mentions to November's Douchepug (Duh) and Karen's Mom, that bull dyke who will no doubt be suing us all as soon as Brooke's lawyer gets around to it.
But this year's winner, and my personal favorite, has to be March's Troll Dog. The only challenger worthy of following in the footsteps of the great 4-Prong. Pat nods in approval. The rest of us are still asking ourselves "What the hell is that?"
——