Saturday, December 10, 2011
Best Haiku: Darksock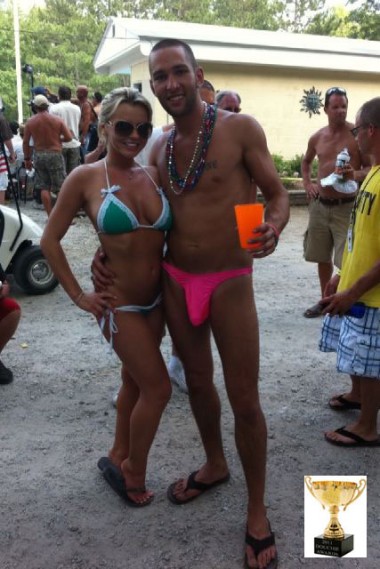 idfma hands out the Douchie Award for best Haiku, accompanying this porny pic of speedoschlong and Sheen-chick:
——
As everyone knows the Haiku is originally a Japanese form of poetry characterized in English as 17 syllables arranged in three lines: 5-7-5. What you might not know is that one of Haiku's earliest masters—before it was even officially known as 'haiku' used it to warn us against douchebags.
During the 1600's Matsuo Bashō, wrote the following lines:
the first cold shower
even the monkey seems to want
a little coat of straw
As you can plainly see, Bashō anticipated our application of Haiku here at HCwDB.
I chose the Haiku of the year based on two things: best imagery coupled with best funniness. Darksock wins. For those of you who think it was rigged, it is — he held me out of a window by my ankles and threatened to drop me 2 stories, if I didn't give him the prize, so here it is:
His pink dong-sling-bling:
So horrific, his asshole
Flees to beige hut's wall
Darksock opens the haiku every Friday for a reason, and it's because his are some of the best.
The runner up: Claude Douchenburg from May 20, 2011.
——
Raging neon burns
Hair on fire without flames
tuck in your shirt douche
——
Claude only threatened my family, so he was merely a runner up.
And last, the guy who didn't threaten me at all, but came up with some funny sh*t, Douche Wayne on August 26, 2011 captures what it is we are always mocking and fighting against here—those who:
——-
Search and destroy all:
Taste style decency tact thought
Job almost complete.
——-
As with all the awards, this is not to say I didn't pass over many great haikus—these were just the best in my humble estimation. Thanks to DB1 for giving me the opportunity to hand out a douchie.
———–