Tuesday, December 6, 2011
Most Trashcan to the Head Worthy: Gynochin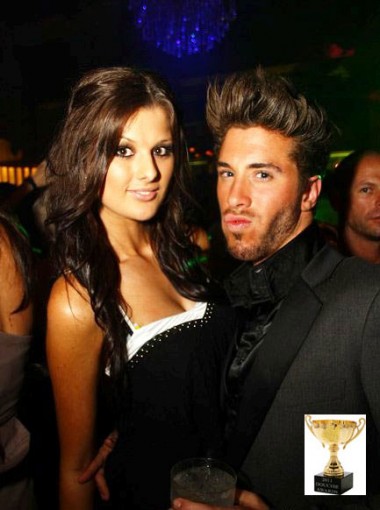 Medusa Oblongata hands out the award:
——-
For those of you kids too young to remember, trash cans used to be made out of sheet metal, like the one Oscar The Grouch resides in. Not like that floppy Rubbermaid piece of junk your dad bought at Walmart.
Anyway, these trash cans were gigantic, heavy monstrosities, and to slam one over someone's head would cause them more than permanent damage; it would also cause the greatest sensation of pride and pleasure that you, as the slammer, could ever experience. The cries of your newborn child would fall on deaf ears as you blissfully reminisced about the time you picked up that trashcan and slammed it over ___________'s head.
Knowing that joy quite well myself, it is with a big smile and grave intestinal distress that I announce this year's winner of "Most Trashcan To The Head-Worthy."
Despite the many gut-roiling candidates throughout the year, only one truly comes to the forefront, and that is Gynochin.
He tore out of the gate, leaping the arc from the tail end of 2010, taking the very first DBOTW in January.
Yeah, remember when we had a weekly? Those were good times. No, really, I'm over it. I was just sayin'. Anyway, Gynochin came around for another swing and took the monthly for February, displaying a powerful level of irritating douchiness that was not to be ignored.
I reviewed the rest of the year and found some very worthy candidates. Another early arrival, Captain Shnook, bringing the Popeye-esque creepiness,
Monthly winner Clifford The Big Red Bag, for crimes against denim, and the poolbaggery supreme of the crap-tat-tastic Joey Lumpcrustowitz.
However, I still kept coming back to Gynochin as the winner.
I tried my best to put my slimy finger on what was the one overriding factor that would make me want to slam a trashcan over his head. And then it suddenly became clear……Acoustics.
Look at the shape of his head. That elongated (possibly empty) cranium, the jutting cheekbones, the kneecap for a chin. I realized at that moment, the sound of the can slamming down on his noggin would be the most tremendously chakra-aligning sound mortal ears could ever hear. The shape and proportions of his head would allow not only for a tremendously thunderous impact, but also for maximum reverberation post-impact. He's a sound effects engineer's dream come true. Pure acoustic properties, as well as a tepid chaser of smug made Gynochin the clear choice. And also those glasses. Sweet baby Jeebus, those glasses.