Friday, December 9, 2011
Most Vegasy Vegasbag: Lancelot Boy Melvin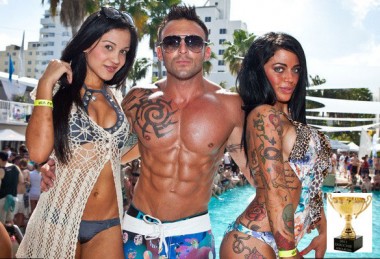 Las Vegas's own Choad the Douche Sprocket gives out the Award:
——
VEGAS-Y VEGAS DOUCHEBAG
Master of Ceremonies Richard Greico: Thank you, thank you ladies and gentlemen. In the category of Vegas-y Vegas Douche, the nominees are:
Prince Meatwad of Prince Meatwad Gives Orders, whose harem of hotts (making up in quantity what it lacks in quality) demonstrate, nay epitomize the pull of the monied thugs who keeps Vegas' coffers full by day and night. With nipples as stiff as his upper lip (and about as large), stupid stomach tatt, ginormous designer shades, camo trunks and ubiquitous Bud Lite, his highness wants you to know he is large and in charge — of a flunky and four stippers from Larry's Villa.
Captain Lubing of Captain Lubing and Tracy Gnaw, who wants everyone to know he was established in 1984. And that he shaves his groin. But then he asks: "Why Me?" Why you indeed captain? Why does the otherwise exquisite Tracey Gnaw see fit to shiver your timber? Can epistemological relativism give us the answers? Or must we seek a higher truth from the oracle that is the ubiquitous red cup. For perhaps, only rc can divine what causes such sweet-natured girls to acquire arm scurvy in their quest for acceptance…and cling to your hideousness like barnacles to to a dingy. For a dingy is all you will ever be Captain Lubing, sailing across the desert sands into douchebag oblivion.
Poppin' Fresh of It's Shark Week on HCwDB whose entreaties to "Stay Classy" whilst pool-siding it at a "C'-list hotel, with a "B"-list hott sporting ink that screams "truck stop mechanic" tells you all you need to know about Vegas day-club culture.
…and finally, Lancelot Boy Melvin:
whose run of douche-i-tude this year included: Buddha Took a Dump, Lancelot Boyz Speak to Perfectly Hot PTA Mom Vanessa in Monosyllabic Grunts, and Lancelot Boy Melvin Pretends to Get Lucky for a Nearby Camera.
And the winner of the 2011 Douchie Award for Vegas'y Vegas Douche is (drum roll please)….. Lancelot Boy Melvin!
(Announcer in voiceover):
Yes, it seems Lancelot Boy Melvin's body of work this year was just too strong to ignore. And by strong we mean the stench emanating from whatever day club let this pile of pint-sized, preening, paid-to-pose poo hang out at it's pool.
Wherever Melvin found himself in 2011, and from the looks of things, you could find him all over Vegas, a certain smell wafted through the air like a Rev Chad fart after three helpings of turducken garnished with Aunt Yvonne's fava bean and fig casserole.
Like moths to the proverbial flame (or is it mayflies to piles of manure?) poolside hotts cannot resist the bronzed, lacquered arrogance of this smirking fecal matter — constantly looking up at you from wherever his homunculun form has been deposited. He is the embodiment of all that makes Las Vegas the breeding ground for narcissistic, lowest-common-denominator behavior – the petri dish for putrid performance art, if you will – that takes place every May-September outdoors up and down the Strip.
Like the booze and tanning factories he frequents, Melvin's very presence embodies the lowering of society's IQ, and stands for the proposition that all shirtless show-offs are not created equal – some have to work extra hard to insure that anyone with a brain (or a soul) would like to clean him off the bottom of their shoe.
Honorable Mention goes to Creepy Vegas Hippie, who proved that no matter how old or wise you become, the pull of Vegas pudwackery can claim any victim — geriatric or otherwise. Creepy Vegas hippie created a paradox — a doucheadox if you will — giving hope while, at the same time, confirming our worst fears about the spreading plague of over-arching exhibitionism that infects society's every strata. Yes, he is a walking embarrassment to his grandchildren, but on the other hand, if you can look this bad, at this age, and still pull some quality trim, there is hope for us all.
Greico: "That concludes our Vegas-y Vegas Awards for this year ladies and gentlemen. If any of you remember who I am, I'll be signing autographs outside my cabana at Circus Circus…and if any of you hotties run with the Goose, I'll be glad to oblige…as long as you pay me first."

——-