Friday, January 13, 2012
Friday Thoughts and Links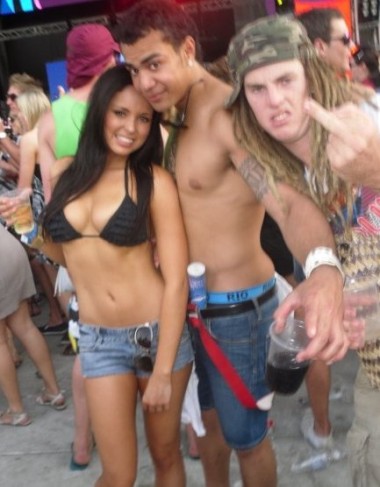 Oh Tiny Dancer Maria, ye of the award winging gazanga gnaws.
How I've missed your curvy giggles that shake your frame like a caffeinated Shake Weight ™.
You guide me true on this Friday aft.
Here's your links:
Your HCwDB DVD Pick of the Week: "The television screen is the retina of the mind's eye. Therefore, the television screen is part of the physical structure of the brain. Therefore, whatever appears on the television screen emerges as raw experience for those who watch it. Therefore, television is reality, and reality is less than television. "
A profound and unfolding tragedy has shaken me to my very core: Hostess is entering Chapter-11. We have not been doing our part to consume tasty snack cakes with creamy filling.
Nik Ritchie's craptastic "The Dirty" continues to smell like poo.
For those of us who grew up in the 80s, read Omni Magazine, and thought the leap in perspective from Space Invaders to Zaxxon was revolutionary: Battlestar Gallactica As it Was Meant to Be Told. In 64 Bit. With lots of deserved snark.
Guy Fieri, honorary Douchebag of the Month from June of 2008, now has a drinking game.
Call your Doctor if your Election Lasts Longer Than Four Hours.
You know who also thinks the South by Southwest festival is filled with pretentious herpster shoescrape? Hitler.
But you are not here for tired Hitler memes. You are hear for Pear.
Mmmm… Fruit of the Bloom.