Monday, February 6, 2012
HCwDB of the Week: Brobot and Curvy Kelly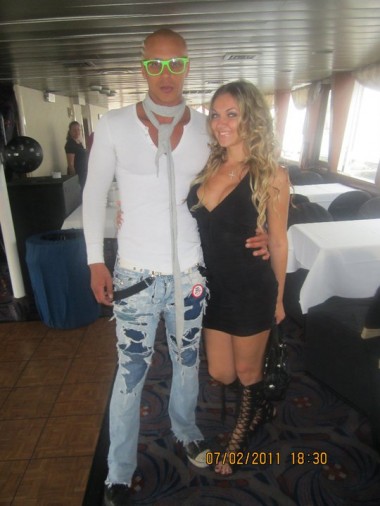 With a two week backlog of HC/DB combos of subconscious haunt, it wasn't easy to pick a winner (loser).
For sheer choadles, It would have to be Buckles Jones. For sexy crypto-Semitic hottness, Naomi. For Vegas trash, Gozer the Fondler. For bad tatts, Tommy's Shoulder Tatt. For hot breasteses, the second appearance (props to Wheezer for the call) of Boobster Connie, Tool Who Points, and Grinder Lizabetta. For crypto-gay rodeo clowns, Gus and Bud. And for moobs, Mooby Mooby Moo.
There was also Crownbag, perhaps the worst douchetatt of the year. Yech.
But I must pick a winner(loser). And so I shall.
And so it shall be Brobot for sheer punchface innovation and consistent douche-stare in numerous pics with a relatively quality gaggle of giggle hotts.
Although, to be honest, Skidmark and Sue could've won as well. Hmm. Can't forget about that pic. That's some toxic HCwDB shite right there.