Friday, March 9, 2012
Friday Thoughts and Links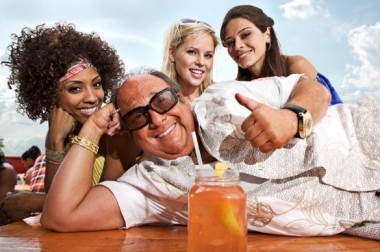 After Vinnie and his ladies finished dining on crabs, it was time to kick back with a hearty Iced-Tea.
Either that or a urine specimen.
Lots of time in Miami to spend money.
Lots of time.
Too much time.
Time to think about where they went wrong in life.
Misspent youth. Failed dreams. Arteries no longer functioning.
Party!
Here's your links:
The great suspense writer and long-time HCwDB 'bag hunter, Harlan Coben, is out with a new book, our HCwDB Book Pick of the Week: Stay Close
(Check out pages 13-15 for a tribute to 'bag hunter terminology)
80s arcade nerds are all growds up.
What the DB1 wants for Hannukah this year.
Rob Gronkowski. Brobaggery? Perhaps. But this is genius, and earns full Athlete Leniency Exemption: Gronk for Madden 2013!
If Hostess Cupcakes ever goes out of business, there may be a solution. Remember kids, it's not junk food if you bake it at home.
I'm not usually swayed by celebrity endorsements, but if there's one person who could get me to buy a chocolate bar, it's Dali.
Sometimes I really miss living in New York.
Happy Spring Break! Las Vegas discovers a new way to cash in..
And while we're at at, places to avoid: America's Top Ten Trashiest Spring Break Destinations.
They said he could be anything. So he became a cloud.
But you are not here for douchecloud. You are here for Pear:
The Olympics will be here before we know it.