Friday, December 21, 2012
GREATEST CRISIS OF MODERNITY: GETTIN' CHEMICALLY SWOLE. SON.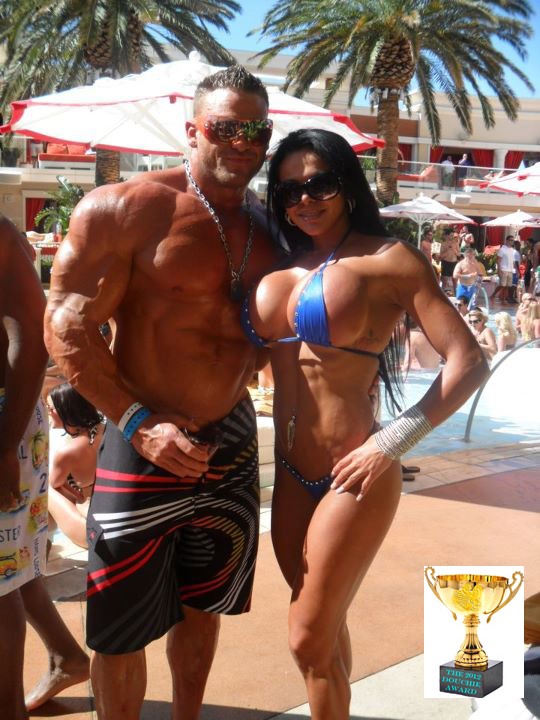 DarkSock here, dispensing this year's G.C.o'M.
Dammit, Boss stole my thunder by posting this photo Saturday under the possibly twinkie-withdrawal induced title of  "Most Impending Sign of Nuclear Scrotacalypse", but no matter.  This only reinforces my thesis, like the wholesome fiber and bran of Justice.
In the primordial con-groo-ation that is douchethink, bigger is better.  This is of course why 'bags must be repeatedly reminded and retrained after each lunch break running the till at their Arby's gig that although a nickel is bigger, a dime is  more valuable.
If a C-cup is good because it gets attention, well hot damn it stands to reason that a pornesque DDD is double-plus-good.  Right?  If pleasingly firm biceps are desirable, then hormone-swollen limbs that thwart wiping one's anus without audible grunts is The Bomb.
As long as douchebags lust for the "TIT" in "Titillation and bleethes pine for the "COCK" in "Peacocking" then these unholy couplings of amplified freakish meat-sacs will continue…these lost souls will endeavor on past midnight to the baleful throb of club beats to make and break sexual alliances like lost socks tumbling in the Coin-Op Dryer of Oblivion ensconced in the vast Laundramat of Despair and Poo.  This confluence of bulbous external sex organs and swole beach muscles can be evinced writhing in sweaty club hook-ups in pee-stink cave-echo-sultry bathrooms; lolling teats, chemically distended tumescent abs  and Raisinette™ testes lubed by hair gel and Preparation H, emitting an unholy balloon-squeak symphony like Satan's Crickets in the Bait Shop of Hell.
And they do this not only shamelessly, but proudly; wagging their yogurt hoses and flapping their silicone fortified dairy bastions at polite society like so many lewd KY-encrusted party favors…because their cartoonishly exaggerated flesh, good for maybe another decade or so, is their currency and worth.  So reasons their room-temp IQ narcissist minds.
They simply do not comprehend that they are the Nickels.  And just like Weekend Hulk here at his weekday Arby's register…it is up to society to make change.