Saturday, June 1, 2013
Comment of the Week: Tits McGee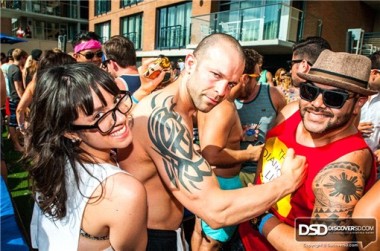 We haven't done a lot of Comments of the Week around here lately, mainly due to the fact that I'm lazy as hell. And while I read all the comments and enjoy the continuing genius of the long time 'bag hunters, I always feel kinda bad about selecting just one comment to win the week.
But hells, since Walnuts After Dark never showed up this week, this trophy goes to Tits McGee for making me feel good about HCwDB Year 7 in the "Game of Barstools" thread:
——
I'm pretty sure this broad ranks her Friday night plans on a scale from Maserati to Maybach. The human cud around whom she is wrapped in this picture would probably pay his hypothetical friends to compliment him while they stare at his bare chest.
This picture made me unjustifiably angry on a day which was supposed to be a joyous romp filled with Vicodin and Four Loko.
And yet I check this site more religiously than most religious people check their moral superiority.
Tithe.
——————–