Thursday, June 20, 2013
The Long Overdue Death of Ed Hardy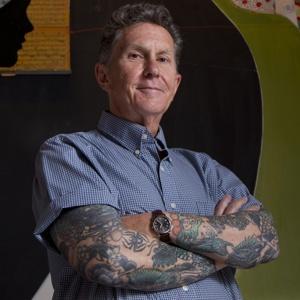 Speaking of famous deaths, we've been tracking the rise, saturation, douche pollution, and eventual decline of the worst and most garish of Douche offenders, Ed Hardy. And no, I do not mean the actual Ed Hardy (pictured here). I mean the brand. Created by this guy.
Now we cheer as this overpriced tatt/t-shirt hybrid monstrosity recedes, finally, into the past. Whereas once Ed Hardy and Christian Audiger fought over douchal profits, they now go their separate ways. A cultural blight akin to the 1917 influenza outbreak, Smallpox, and Hitler, slowly meets its demise.
I can't help but feel our work here at HCwDB has done good for the universe when the New York Post writes an article about the douchification of Ed Hardy. Sure, a link or credit to HCwDB would be nice when articles read like I wrote them. But I've long since given up hoping for credit from fellow writers. Apparently if it's live performance it's yours forever, but if it's on the internet, anyone can repeat it as their own! Them's the rules of the internet age.
But lets be clear about this.
No, DListed and Yahoo, Jon Gosselin did not kill Ed Hardy. HCwDB, and the regs who brought the mock for so many years, did. There, I said it. I take pride in my life's work, and all of your contributions to the cultural shift.