Tuesday, November 26, 2013
Vin Douchal's Suburban Housewife Dilemma Pt. 1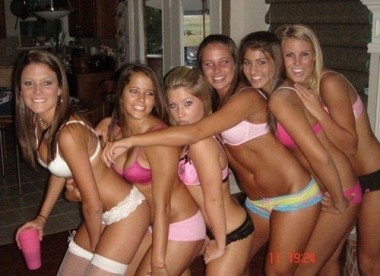 From the Where's Trevor comments thread comes this gem of a depressing yarn spun by the great Vin Douchal:
———-
Nights of clubbing, Kappa Alpha Theta days at UCLA melt into pop quizes and complexion complexities as Vernon, the solid "C" grade Computation major slides his way into an otherwise innocent life of group poses, bathroom make-up exchanges and pep rallies and Pauley Pavillion ladies room vomit scenes.
An innocent night of jello shooters finds her 6 weeks later peeing on a Rite Aid home test praying, hoping upon hoping the straight line in the little window does not grow a cross hair. Negative? No, positive. Again
All five stages manifest in one stream of anguish, "NO!, Shit!, Please be wrong- I'll do anything, oh no I'm screwed, Well… five positives can't be wrong,… time to call dad."
Showing, glowing back for the Holidays when the high school ex- sees her at the Piggly Wiggly shopping for last minute yams and Coors Light inquiring about college… she cries, falls into his embrace. He tells her he will take care of her , stay here, marry me, I'll raise the child as if my own. We'll have others, maybe right away so they can have a little sister or brother… I've always loved you more than life itself. I cried when you went to California,… my Kelly, sweet sweet Kelly… they make love in his 4 wheel drive 1500 HD, drying each others tears and gentialia with the same greasy oil rag
Three kids, four years later, the silo manufacturer closes, the corporations snatch up the farms and they're living in "the extra room" at her parents house all five of them like Mexican pallet families on a sand mountain in Tijuana. No sex, no desire anyway, no quiet time, constant badgering from dad, a baby with colic, a pre-schooler with constantly skinned knees and a toddler wearing opposite sex hand-me-downs ….
In a rare moment when all three kids are asleep and he's out grousing with his pals, she smiles and in a saturnine, morose moment thinks about a nineteen year old with a fake ID, surrounded by faux-sisters , dapper young men and their will to succeed and the life of her forgotten college friends in their Malibu Zuma classes with designer panini griddles and tremendous Jared wedding rings. She walks calmly to her parents medicine cabinet
She swallows her mom's month supply of valium and pens a note, " I'm a failure, I crossed paths with a Douchebag and did not head the warnings,… I'm sorry,goodbye."
————–
I found the only image I could to counterbalance that depressing tale of woe.