Friday, June 17, 2016
Shemga McSaxomophone's Jazz Hands Violate Sophia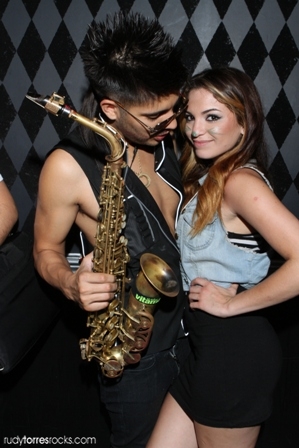 If toxic hottie/doucheybaggery were jazz, this would be Billie Holliday's first performance of "Strange Fruit" crossed with Dave Brubeck's "Take Five" and finished off by a Django Reinhardt flamenco riff.
Which is to say a unique amalgam of improvisational choadnuttery.
From Shemga's chumptastic head tilt to Sophia's doe eyed vaguely 80s-era Laura San Giacomo luscious Mayan Eye of Coitus, the dialectics of choadal dissonance innovate tonal patterns beyond the everyday fungorgia. For the stench of hair spike semi-employed wank-tool pawing pooch suckle thigh innocence rends the power chords, riffs into dissonance, and transcends into the sublime.
And by sublime, I mean Billy from St. Elmo's fire sublime.
Which is to say, not.