Monday, January 2, 2012
HCwDB of the Week: Andy Swirlwind and Freida Garcia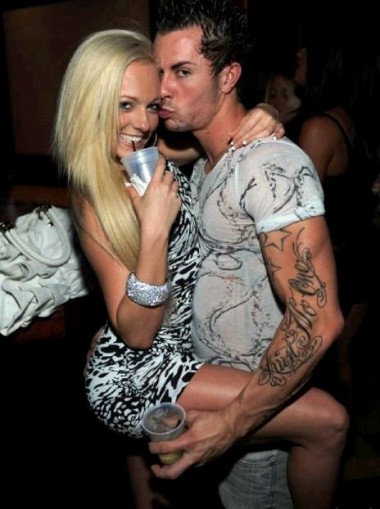 Giving out the first HCwDB of the Week of the New Year means I get to go back and dig through all those hottie/douchey blights that appeared before the Douchie Awards began.
Which is both enlightening and horrifying.
Looking back, I'd definitely consider this rank coupling, showing perfect ass pear and coquettish giggle bobble in presence of odious armtatt and doucheface the most heinous hott/douche travesty of the bunch.
First appearing in late November as "Bring Me the Butt of Freida Garcia," the Peckinpah allusion alone brings quality reference to the table.
However, there was much competition, as a number of great submits came in before the Douchie Awards began. And by great, I mean soul crushing. Consider Fisthole. Or better yet, don't. Or last week's assholic party boat wankshed, Mr. Boatbagus. Or classic Vegas schrud, Wez Retires to Boca. Or the eliminated on account of potential gaybaggery, Lando Tanktoppian. Even Stoagy McBain and Ed Sucky deserve additional mock.
But these is the worst/best. And so we find our first selection of 2012, and first entrant in the next HCwDB of the Month.