Tuesday, December 11, 2012
Douchiest Doucheface: Mongor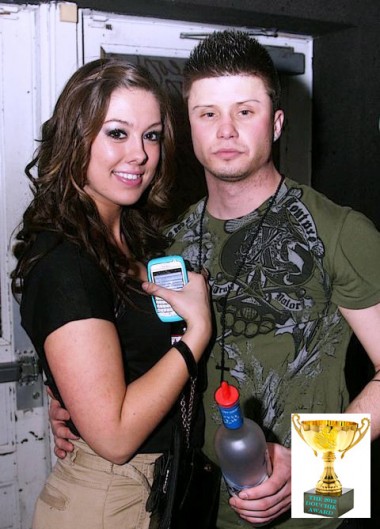 The first of our regs awards, lets give out Douchiest Doucheface.
DoucheyWallnuts gives out the award (click on this link for the 48fps aural experience):
—————-
The Douchiest Doucheface is a signature award, in that without the properly douchie facial expression a douche may go unnoticed, or at least under-appreciated. Let me tells ya, its a real friggin honor to be selected to give this here award.
So, keepin this in mind, this year I focused my attention in lookin for the Douchiest Doucheface amongst our monthly winners and contenders, as these egregious examples of the lowest rung of human existence set the bar (low) for the next generation of human detritus. Detritus, I says.
The year started with the old standard Kissy Lips Face (KLF) being the prevalent mode of expression. But as the year went on we saw a trend towards the blank expression and a look of not-so-mild retardation.
Was this change of expressions due to actual chromosomal damage caused by inhaling too much Axe Body Spray and cheap booze, or was this, "New Face" a willful act on behalf of Douches across the globe; is the Blank Face the new Kissy Lips?
So without further ado, let's hit it.
January represented the end of the old era, start of the new, with Grover McPocalypse topping three classic douchefaces; Andy Swirlwind, Tony the Curdle and Blender Barry. In years past one of these three f@ckwits would have been candidates for the yearly, but the body odor and scary demeanor of Grover scared the Kissy Lips face off of every douche in the country.
Voguegina (May) – Nuance thy name is Voguegina. The slight drawing in of the cheeks gives this douchebag of the month contender a smarmy quality that makes you want to punch him until the flesh on his face resembles Jenna Jameson's Zool after Tito Ortiz gets done with her. Zool, I says.
Sleepy Jerkenstein (April) – Jerkenstein gave a drug-addled flavor to the Blank Face. Huffing no doubt contributes to Sleepy's expression as much as punching it would assuage the feelings of hatred and disgust you have for him. Assuage, I says.
Orangudan (May) – Orangudan sprouted from an abscess that formed on Tendon Ted's hip that was the result of too many steroid injections in that site. His variety of the Blank Face is the Gas Face. And if you ever have the displeasure of speaking to Orangudan you will find that he makes as much sense as do the lyrics of the song of the same name, by 3rd Bass. "A box of Newports, and Puma sweats ("Damn!")
"Tex feeds and frowns upon Emus To give up Gas Face he drinks from a Thermos." The Orangudan never uttered a more incoherent statement from his expressionless face. You don't want to hit Orangudan in the face. No you don't. Unless you want dead.
Jack the Lipper September – Jack gave it a shot on behalf of all the hipster pussies out there. Really he did. But rather than exude toughness or attitude, he just exudes a prodigious amount of pussiness, just as his pie hole would exude cries of pain and anguish as he gets punched about the head, face and neck area.
And finally we have Mongor, who's been hangin around for the last few months – Mongor's blank expression, whether it be due to retardation or cocaine and Extasy abuse, is the baseline from which all other douche faces sprout. It is very difficult to get a more Minimalist facial expression than Mongor, and this douchebag's face sets the new standard. One has the sense that Mongor would remain expressionless even with a barrage of punches raining down on his punim. Punim, I says. Mongor is our winner (loser) for 2012 Douchiest Doucheface.
————
"Assuage, I says" for the win.