Monday, October 20, 2014
Gawker Flies Its Freakademic Flag, Tries to Summarize 'Douchebag'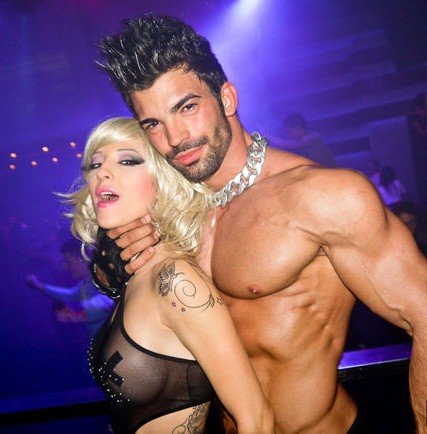 Some pseudo-intellectual warghlebarghle 'culture' critic named Michael Mark Cohen over at Gawker has attempted to write the history of 'douchebag' in popular use.
His conclusion? The term 'douchebag' has become a variation of a socially acceptable ethnic insult. To call someone a douchebag is, according to this pop culture Nostradamus, a coded way to racialize whiteness.
Allow me to retort.
A douchebag says no.
Critiquing the term douchebag on ethnic terms ignores the far more obvious and self-evident gender binary taking place. The perjorative context of 'douchebag' lies entirely in its critique of masculine ego by referencing a feminine hygiene product. To try to relocate this obvious gender interplay as a template for racial power embedded in media artifacts is to overdetermine meaning based on pre-established crotch fondle.
Let me repeat. No.
Douchebag is not a code for whiteness. It has never been used that way. If you want to project some idiotic screed on racial hierarchies and linguistic subtext onto a concept you don't understand, I suggest entering the rarified air of Lena Dunham think pieces and Miley Cyrus twerking deconstructions. I hear Commentary and Dissent have merged to form low paying clickbait troll spew.
Ascribing douchemock to race to heat up the outrage machine and you're just phishing for pixel chum. And no, I'm not referring to a 1990s noodle jazz fusion band that never should have left Vermont. I'm referring to an outdated mode of ethnicity studies that can't account for convergence culture.
How do I know what 'douchebag' means? Because I'm the guy that redefined it back in 2006. Back then it meant either a feminine hygiene product or a rarely used insult akin to asshole. In its redefinition, douchebaggery became a term used to describe a certain type of preening hyper-masculinity. The point at which human males (and certain females) transformed into Michaelbay-ian cyborgian explosions of cartoonish idiocy and narrative incoherence. All in an effort to get the ladies by turning their bodies into neon day-glo advertisements and pop culture tinsel.
I needed a word to describe male spectacle in the age of over-saturated media stimulation. And I found it.
But there was barely a tip of the hat to the importance of HCwDB in Gawker's rambling unthinkpiece. If you're gonna break down the 'bag and you don't credit Hot Chicks with Douchebags, you're talking out of your proverbial Foucauldian peeper steeper.
The facts is the facts. The HCwDB community is what introduced 'douche' analysis to contemporary discourse. Not just me. All the regs in the comments threads over the years. We parsed douchebaggery in all its hottie/douchey dialectical formulations.
Heck, I even wrote a book on the subject. So I know of what I speak. At least when it comes to frivolous colloquialisms written as satirical mock.
So put down that Fanon and Chomsky, digi-media whore, and come back to the realities of the pop culture pizza. Sometimes a slice of mushroom and roasted red peppers is just a slice of mushroom and roasted red peppers. Especially when it tans and shaves and rubs its pecs with various sundry bodylotions in the hope of attracting a party chick woo hottie.
Them's the post-structural Derridian deconstruction. Put that in Freud's cigar and smoke it.
So let it be written. So let it be done.
TL;DR EDIT: For those of you coming to Hot Chicks with Douchebags for the first time via that Gawker article, Gawker is the sucky. You can read the real history of the sordid, complex introduction of douchebaggery as mock in the history of Hot Chicks with Douchebags, my last daily post on this site, written last February.