Sunday, March 8, 2015
Your Sunday Douchekiss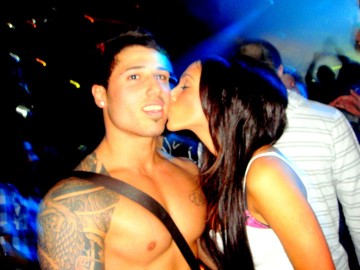 As Party Girl Ryan kisses His 'roided beef-cheek with the tenderest of shallow affections, Beefer Sutherland is currently having the following thought:
A) "Unhhgghhhh."
B) "Mmmm… grahhhhhwwwoooo."
C) "Fwee…. fwee… fwee… fwee…"
D) "Eternal inflation, string theory and even Hugh Everett's 'many worlds' interpretation of quantum mechanics all suggest a vast number of universes, and conditions have to be bolted onto each of the theories to get the number of universes down to one. Therefore Jager is the shit."
Answer now!