Saturday, December 22, 2012
HCwDB of the Year: Sleepy Jerkenstein and Cindy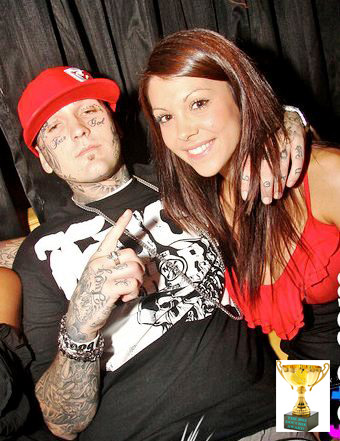 In a shocking upset, the unholy alchemy of hott and douche that is the disgrace that is Sleepy and Cindy took down the powerhouse pro-douche force that is Benzino and Pear.
But this is as it should be, and justice was served.
While Kusseus Vomitorious and Margaret were ab-ripping inanity, and Benzino's rancid DJ tattbaggery fondling hotts was all that Las Vegas diarrhea spews on our culture, none cohabited in (im)perfect dialectic quite like Sleepy/Cindy.
Factor in their contribution to the HCwDB Art Show in 2023 in "Innocence and Poo Face," and we have ourselves a yearly winner, kids.
Some of the thoughts from the voters:
Blind Squirrel: Sleepy looks like a piece of scratch paper you use to get a pen working again.
Charles Nelson Doucheley: Sleepy has had this award written all over his face ever since he first appeared here.
Mr. Biggs: Sleepy's mindless philosophizing haunts my brain.
The Douchey Dozen: Sleepy/Cindy. Because it is written. On his face.
Morbo: These two are what HCwDB should be. Wholesome Cindy, whose perfect auburn hair inspires soft melodies. Sleepy, whose face reminds me of the margins of my ninth-grade algebra notebook.
Duck Duck Douche: Sleepy Jerkenstein and Cindy. Because protecting Cindy from Jerkenstein is why we're here.
Douchble Helix: look at that sack of shit, Sleepy. Clueless, but original. And a great hott. All three are (un)worthy. But Sleepy commits, motherf@#kers. And you can't sleep that shit off.
There it is. Although all three may end up in the Hall of Scrote when all is said and done.
Ladies and germs, here's your 2012 Douchie Awards:
Douchiest Hair: Mickey the Polyp
The Ricky: Sweaterman Twists
Douchiest Doucheface: Mongor
Hardiest Hardy: This Guy
Jerziest Jerz: Arturo, Skinny Kathy, and a Dirty-Ass Door
Douchiest Family: The Tapoutskys
Douchiest Facial Fung: The Craptastopher
Most Euro Eurobag: Brobot
Douchiest Pepsi: Alissa's Pepsi Challenge
Herpsteriest Herpster: Braden the Metalworker
Best Golden Globes #1: Sonya
Most Expensive First Date Hott: His-name-is-Huang-But-Call-Him-Joe's Roxanne
'Bag Most Likely to be a Lesbian in Drag: Bernie
Smells Like Poo: Crotchos
Most Impending Sign of Nuclear Scrotocalpyse: Cartoon America
Peariest Pear: Spindarella Pear
Douchiest 'Bag Innovation: Place to Store Your Cigarettes #42
Greatest Hottie Development: The Side-Boob Cleavite Dress Reveal
Golden Globes: Sheertina
Douchiest Ruiner of Sapphic Love: Guy Who Ruins Pics of Hot Chicks Making Out Guy
Douchiest Celebrity Couple of the Year: Kanye/Kardouchian
Orangest Orange: Orangudan
Best Golden Globes: Globes For All!
Hottest Hott #1: Jenny From The Sci-Fi Poobags
Hottest Hott #2: Vespa Hott From Lord Helmet and Vespa Hott
The 'Bagling: Eurotimmy
The Yellowtail: Mr. Tibbs
Greatest Crisis of Modernity: Gettin' Swole. Son.
The John Largeman: Wise Black Man Howlin' Cat
The Irving Thallbag Lifetime Achievement Award: Xenu
Be sure to peruse some of these awards, especially the ones written by the regs, as there's some fine mock in there.
And for our hallowed Hall of Mock let us welcome the following Class of 2012:
douche equis
Capt. James T. Douche
Charles Nelson Douchely
THEONETRUEDOUCHE
Merle Baggard
ehcuodouche
Franklyn DealorNo Doucheifelt
Charles Douchewin
FredN.
Ol' Dirty Douchebag
Congrats to you all for services rendered in the art of douche mocking and hott lusting. There were many more on the list of finalists, so you should all toast your induction with a sip of the ole' Night Train via URC.
Lets also welcome Tiny Dancer Maria to our hallowed Hall of Hott.
And if you appreciated the 2012 Douchies, help support the site by checking out, and buying, some cool shit on Amazon.
You don't have to buy what I link to, just click through the link and a bit of what you end up buying (anything on Amazon) will pay for the costs of running the site.
Do it.
Rock the boat.
2012 Douchies out.