Thursday, December 20, 2012
The Yellowtail: Mr. Tibbs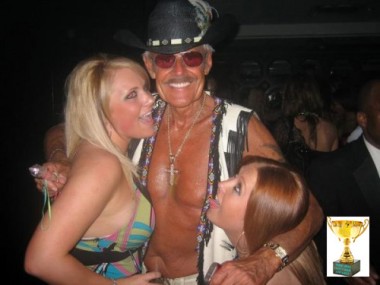 The Yellowtail Douchie Award, also known as The Oldbag, goes to the creepiest old scrote macking on the young hotts of the year.
This award invariably produces its share of heroism and anti-douche applause. For most people, simply witnessing any old geezer keeping his saggy sack in the game and getting his mack on in his senior years is worthy of applause and appreciation.
Oldbags of note this year include:
Greybeard sins against Nature.
The generic Vagitarian.
The creepy Vegas Olddog and Olddog with Pear.
The uber annoying Bronzer McTwat, also known as Mister Asswhiffer.
Narm.
The ancient Tony Cappacino.
The douche-face of Gozer the Fondler.
And Vinny the Crabs Guy who definitely earns his nottadouche and tasty crab snack.
The biggest competition for the Yellowtail award has to go to either Oldbag Harold or Oldbag Ralph, both of whom are odious sucks of taint in presence of hot chick.
But there was no passing up Mr. Tibbs, showing his nieces his fine corinthian leather back in January.
A lotta Oldbags last January. I don't know what was going on then.