Thursday, June 25, 2015
Someone Named Ariana Grande Wants You to Stop Judging Her For Dating Douchebags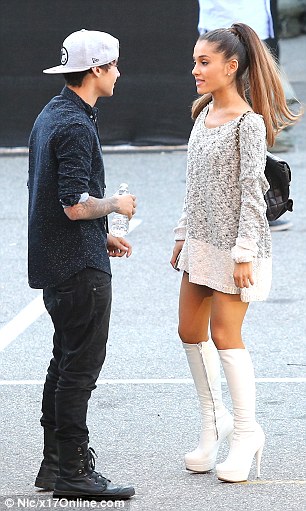 A few weeks ago someone named Ariana Grande, who may or may not be a Starbucks promotion coupon code, complained that people need to stop judging celebrities based on who they've dated.
Apparently this ambulatory entertainment product has spent the past few years coupling with a series of pre-packaged plastic drone boy toy veneers shrink wrapped for mass consumption. And now she doesn't like it when the internet gets mean. In a rant in some form of social media, this person of whom I have no idea (Disney princess? Heir to Kombucha Tea fortune?) complained thusly:
———
"I can't wait to live in a world where people are not valued by who they're dating / married to / attached to… but by their value as an individual… I have clearly not been having the boy questions in my interviews lately because I have come to the realization that I have SO. MUCH. MORE. to talk about… I'm saying this after literally eight years of feeling like I constantly had to have a boy by my side. After being on my own now for a few months I am realizing that that's just not the case."
———
There's some other stuff in there about activism and gender roles, but I'm too lazy to retype it.
That being said, allow me to retort. Because we here at Hot Chicks with Douchebags like to stay up on current events in our quarterly half-assed posts.
Reducing public gossip/criticism to a reductive form of gender politics offers a slap in the face to the very real problem of systemic bias within the language and codes of patriarchal traditions.  It is the pseudo-intellectual whine of privilege. It does damage to the real cause it claims to support.
When a young performer chooses to enter the Foucauldian panopticon of new media ludicrousness, they make an implicit contract to perform as a dancing/dating/drinking/partying rhesus monkey grinding the organ grinder for the hordes of the unwashed.
This is not to excuse the venom and personal attacks that dominate the bottom-scraping chum tank of reprehensibility that defines the New Media wasteland.
It is only to observe that criticism comes with the perks of fame and fortune, as Gandhi once said. Every celebrity has learned this painful lesson since Clara Bow sucker punched Hedda Hopper at Hearst's Brown Derby blowout back in the 20's.
So let it be venti. So let it be done.